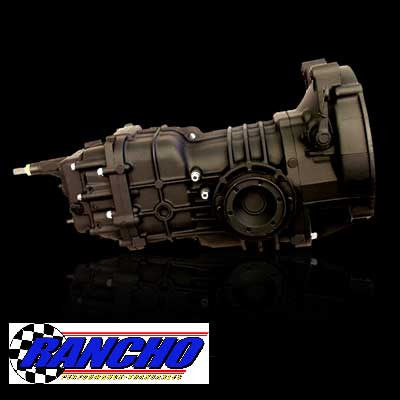 Rancho
RANCHO IRS BUS 002 TRANSAXLE
---
Rancho RTP1002. A step above the Type-1 based units, this Type-2 based 002 style transaxle offers a much stronger case. This is one of Ranchos' premium units for street and strip use. Ideal for IRS Type 1 and Type 3 Beetle, Karmann Ghia, Notchback, Fastback and Squareback vehicles with high output performance-enhanced engines.
Rancho Performance has been the enthusiast's choice for quality Volkswagen transaxles for over thirty years. AVR Import Parts is proud to offer their complete line for any stock or high performance air-cooled VW application. Ask your friends about Rancho's well-earned reputation and you'll know that Rancho is the best choice for you.

Rancho's replacement performance transaxles come complete:
Finest OEM and aftermarket components
New main bearing
New pinion bearing
New synchros
New gear carrier housing bushings
New starter bushing
New cross shaft bushings
New nose cone bushing
New seals, gaskets & hardware
Heavy-duty aluminum side covers (resists flex, ensuring good final drive gear contact)
Welded 3rd and 4th gear hubs (can't spin like stock pressed gears)
Steel shift forks (won't bend or break like OEM brass forks)
Hardened keys (resists shear)
Welded throw-out shaft
Close-ratio 3rd & 4th gear sets (available in 1.481.58, 1.70 and 1.04,1.14,
1.21, 1.31 1.43 respectively)
5.38 ring and pinion ratio
Gusseted shift bracket
Steel shift ball
Prices shown include $700.00 core.  Conditions apply to value of returning core. Product does not qualify for free shipping.  If added to cart you will be contacted with shipping rate.

If you have any questions at all about the right transaxle for you, please don't hesitate to contact us.             
RP3
---
Share this Product
---
More from this category