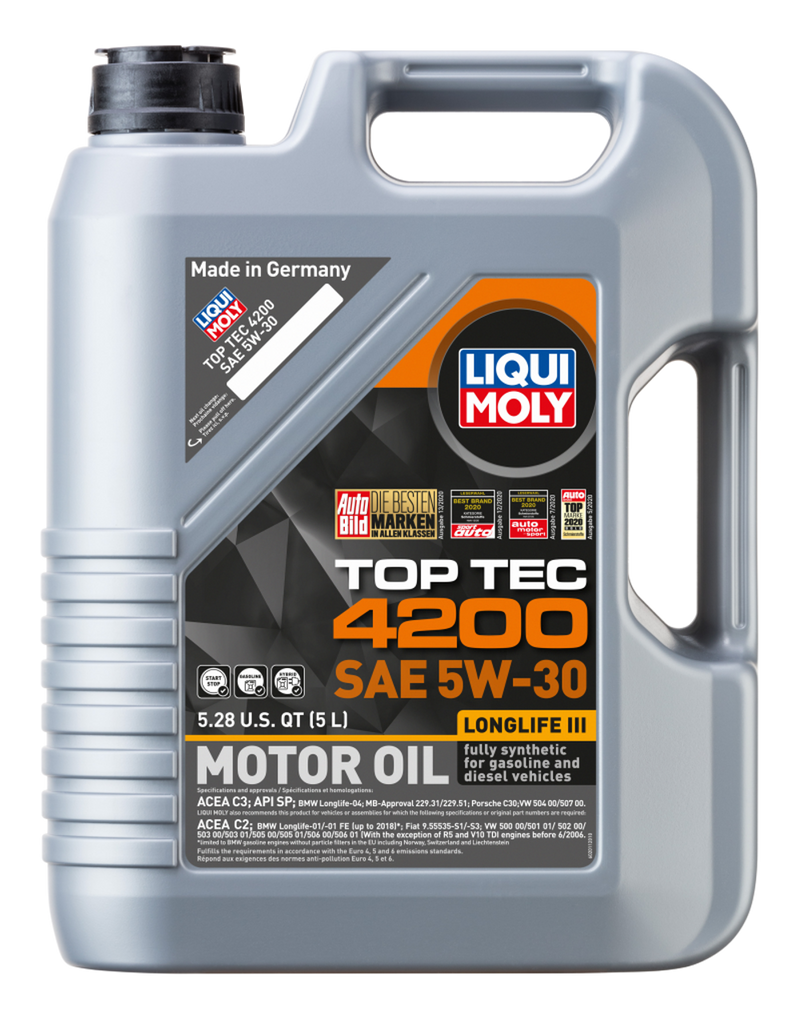 LIQUI MOLY
TOP TEC 4200 5/30 ENGINE OIL
---
LiquiMoly Top Tec 4200 5W-30 Engine Oil is a state-of-the-art all-season HC synthetic motor oil for gasoline and diesel-powered passenger cars including vehicles equipped with a diesel particulate filter in accordance with the Euro 4 emissions standard and extended maintenance intervals.
Beside the universal use in vehicles from the Audi/VW group (except TDI-Engines R5 and V10 before MY 06.2006) also suitable for BMW, Mercedes-Benz, Renault etc.
The combination of unconventional base oils using HC synthetic technology, together with the latest additives, guarantees a motor oil that provides exceptional protection against wear and reduces oil and fuel consumption, while ensuring fast oil penetration of the engine. As such, oil change intervals of up to 30,000/50,000 km (or every 2 years for low mileage drivers) are possible as per the manufacturer's specifications. 
Intended Use: All-year oil for petrol and diesel engines with FSI, common rail and pump-jet technology. Especially suitable for vehicles with diesel particulate filters (DPF) also for retrofits. Tested safe with catalytic converters and turbochargers.
 Type: LM 2011 / 5W-30 100% Fully Synthetic

Application: for Benzin and Diesel engines

Meets Specifications: BMW LL-01 / BMW LL-01FE , VW 500.00 / 501.01 / 501.01 / 502.00 / 505.00 / 505.01/ 503.00/ 503.01/ 506.00/ 506.01/ ( Except TDI Engines R5 and V10 before 06/2006)

OEM Approval: ACEA C3 ; BMW Longlife-04 ; MB-Freigabe 229.51 ; Porsche C30 ; VW 504 00/507 00 
 5 litres
PART # LM2011                                                                S7T
---
Share this Product
---
More from this category