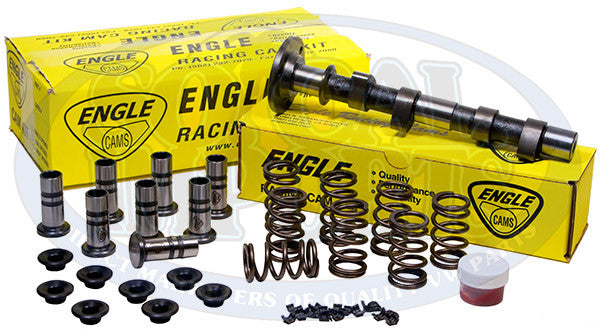 Engle
CAM SHAFT - W-110 MASTER KIT
---
W Series Camshaft Kit, W-110
Engle Cams has taken the guesswork out of matching cams and the correct components for you! All of Engle cams components are of the highest quality available and packaged in an Engle Cams Master Box. For over 60 years Engle Cams have been produced in the U.S.A. Don't take a chance with your motor.
Master Kit Includes the following:
Camshaft, Lifters, Single Hi-Rev Valve Springs, Chromoly Retainers, Heavy Duty Triple Groove Keepers & Redline Synthetic Assembly Lube
The Engle W110 Classic VW Bug camshaft grind is designed for 1.1 or 1.25 rockers, and it's specs are .392" Cam Lift, .430" Valve Lift (1.1 Rockers), 284 degrees of advertised duration, and 247 degrees of duration at .050", on a 108 Lobe Center.

EC2
---
Share this Product
---
More from this category