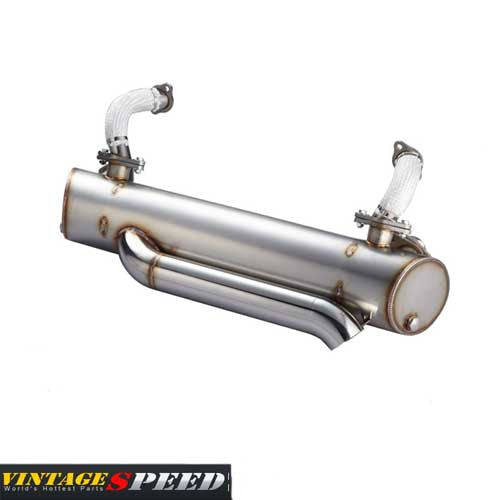 Vintage Speed
BUS HIDDEN TAIL PIPE STAINLESS STEEL SUPER FLOW MUFFLER
---
Superflow 1960~1967 Extreme Lowerd Bus, Hidden Tail Pipe
Features:
1. ±4mm Adjustable flanges for stroker or narrower engines.
2. Sport muffler for engine up to 125 HP.
3. SuperFlow muffler for engine up to 150HP.
4. 100% #304 stainless steel muffler, tail pipes and headers.
5. Build in M18x1.5 nuts for Lamda sensor when tuning carburetors.
6. Fiberglass fire sleeve on #2 and #4 header pipes were designed to protect fresh air hoses.
7. Use original 111 298 051A gasket for heater box. 111 298 051A gasket sold separately.
8. Compatible with early pre-59 bus models also (Barn Door to Press Bumper) but will be very close to apron.
Vintage Speed # 155-207-052SF                           V45
---
Share this Product
---
More from this category