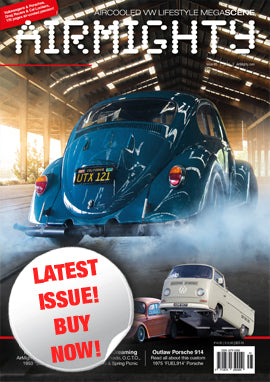 AirMighty
AirMighty Magazine Issue #45
---
Included in this issue:
CARS
Nao's Dragster
Nao Fujita races his latest project car during weekends, read all about this perfectly detailed 280bhp Beetle.

Ragtop from down under
We tell you more about this super-detailed Australian-spec '61 Beryl-Green Ragtop Beetle.

FUEL914
This is Luke Ray's story of his personal project, a 1975 Porsche 914.

The Cal Look DNA
Within the course of three years, Louis managed to turn a rusty shell into a real Cal Look show car.

Second Coming Single Cab
Everybody is talking about this Bay Window Single Cab. It has the potential to go from zero to hero – and has already proved the point!

Lowering the Standard2
A style that follows no style. Jupiter grey with semi-gloss black accents such as bumpers, wheels, headlight rings … rounded up with gloss black accents inside the car.


SHOWS
California Dreaming
Our surfing air-cooled VW reporter 10ft Doug takes us with him to several air-cooled VW shows on the West Coast.

Spring Picnic
Hanging out with good friends, camping and lightning up that BBQ. Good times at the Picnic in Anaheim, California.

O.C.T.O. - Split Buses Only
Orange Country Transporter Organization hosts the largest Split Bus-only gathering in Long Beach Veteran's Memorial Stadium, Long Beach, California. 

El Prado VW Show & Shine
Over 1,500 Volkswagens came out to participate in the car show. What a massive turnout! Read all about it right here… 

Bug-In #45
Burning rubber, poppin' wheelies, and racing on Irwindale Speedway's 1/8th-mile strip is always a good way to spend your Sunday!

AirMighty Show 2021
The first, but definitely not the last edition of the AirMighty Show took place on 9-10 October 2021, we will take you there and we are going to tell you all about it!


…and more!

AirTist: Mauro Carvalho
10 Years AirMighty, so we had the Collectors-Edition cover made into a real piece of (VW) art! 

Lights, Camera, Action!
Here is a little "behind the scenes" article of a great film in the making about this Old Speed rally 1953 Zwitter.

Meet the Maker
Let's have a closer look at the Custom & Speed Parts - CSP Disc Brakes. A breakthrough development that we take for granted nowadays.

Pon's Historical Company collection
A new column in AirMighty with some interesting storytelling: VW EYECATCHERS AT THE RAI.

El Dub's Column
Two highly improbable creations: the Super Bugger beetle and the famous Boonie Bug. Laurent takes us on another '70s trip.

---
Share this Product
---
More from this category